Wall Insulation Near Dover, Bear, Wilmington
Cavity Wall Insulation
Watch to learn about the advantages of insulating your walls with dense packed cellulose.
Contact Us For
A Free Estimate
Privacy Statement: Your information will be kept confidential and will not be shared with any third parties.
Why Homeowners Choose Us For Their Wall Insulation
Air tight seal and superior insulation
Increased comfort all year round
What Our Customers Say About Us!
The office staff was courteous and helpful. Answering all our questions. The crew cleaned up and was also courteous. The job was priced right.
- Carolyn and Louis in Felton, DE
Upgrade Your Home's Wall Insulation
In terms of improving your home's energy performance and efficiency, wall insulation may not need to be your first priority. Not because wall insulation isn't important -it is-but most homes already have insulated walls. In the large scheme of your home, there may be other areas that require more insulation upgrades and attention.
Extra insulation is easier to add in the basement, crawl space and attic because foundation walls and attic areas are easily accessible. And these areas are the most likely to be uninsulated or very poorly insulated.
During a home energy checkup, Lawson Home Services will be able to inspect and assess insulation levels throughout the house. If wall insulation is missing or inadequate, there are several options available to remedy this problem.
Lawson Home Services proudly services areas throughout Delaware & E. Shore Maryland such as Wilmington, Dover, Bear, Easton, Middletown, Newark, Salisbury, Hockessin, Berlin, Claymont, Seaford, Stevensville, Millsboro, Grasonville, Georgetown, Lewes, Centreville and surrounding areas.
New insulation = energy performance transformation
Lawson Home Services can assess insulation levels throughout your house and recommend insulation upgrades that will significantly improve
home energy efficiency
. Lawson Home Services will then complete the improvements you select.
Contact Us For A FREE Insulation Estimate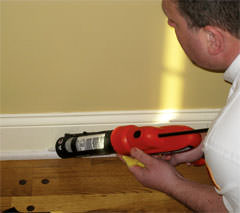 It's tricky to insulate finished walls. Insulating walls is easy when the studs are still visible, before wallboard or other finished wall material is installed. Once the wall is finished, it's more difficult to get insulation inside the wall, in the cavities between studs. One technique for insulating finished walls involves drilling access holes near the top of the wall, and blowing cellulose insulation into empty stud cavities.
Air-sealing is the first step. Whether the exterior walls of your home are insulated or not, there's a very affordable way to improve their energy performance along with your comfort. If you can feel cold air coming into the house around electrical outlets and window trim on a cold winter day, your walls probably need to be air-sealed. This energy upgrade seals the many cracks, gaps and holes where air leakage occurs.
Don't overlook windows and doors. The energy performance of an exterior wall has a lot to do with the windows and doors that are installed in the wall. Modern, high-quality windows have features like low-e coatings and thermal breaks which make them more energy efficient than older windows. The same is true for exterior doors that have qualified for a Energy Star® rating. These doors have insulated cores and effective weatherstripping.
Find out if improved wall insulation is in your prescription for energy savings. Contact Lawson Home Services today to schedule a free insulation inspection and insulation upgrade estimate.
Lawson Home Services proudly services areas throughout Delaware & E. Shore Maryland such as Bear, Wilmington, Dover, Newark, Salisbury, Middletown, Easton, Hockessin, Claymont, Berlin, Stevensville, Seaford, Grasonville, Millsboro, Centreville, Georgetown, Lewes and surrounding areas.
Start Saving Energy and Money With A Wall Insulation Upgrade.
Call 1-833-397-0163 or contact us online to schedule a home inspection and insulation estimate.