Cellulose Insulation Near Wilmington, Dover, Bear
See how cellulose insulation performs better than fiberglass insulation.
What if we told you that cellulose insulation is one of the most environmentally-friendly building products in the world, and one of the most fire-resistant materials available for your home? What if we also told you that houses that use this insulation generally require 15 to 30 percent less energy for heating and cooling than homes insulated with fiberglass batts? This could translate into a ton of savings on your energy bill!
Lawson Home Services installs cellulose insulation in Wilmington, Bear, Dover, Newark, Salisbury, Middletown, Easton, Hockessin, Claymont, Berlin, and more!
Tru-Soft Cellulose insulation is beneficial to your pocket and the earth
Every type of building insulation is considered a "green" product, because it reduces the amount of energy needed to heat and cool your home, which decreases the amount of fossil fuel that is burned, resulting in less harmful carbon emissions.
Tru-Soft™ cellulose insulation takes its "greenness" one step further - this type of insulation is considered "super-green," because it: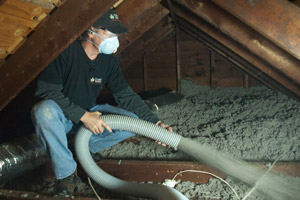 An alternative to fiberglass, Tru-Soft cellulose is a green, efficient solution that's worth considering.
Is made from mostly recycled waste. Cellulose insulation is created from recycled waste paper, like old newspapers, that would typically be sent to a landfill to eventually decompose and release greenhouse gases. Cellulose is made up of 85 percent recycled content - that's more than any other product in the insulation industry.
Requires less energy to manufacture. Manufacturing fiberglass insulation takes at least ten times more energy to make than it does to create cellulose. When paper waste products are collected and recycled, they are then processed in grinding machinery, which creates a fluffy, lightweight material (known as cellulose). This "super-green" product has an insulation value as high as R-4 per inch.
Can be safely cleaned up. After installation, fiberglass and foam insulation debris is brought to a landfill, where they never decompose. Cellulose insulation scrap is collected and recycled right there on-site.
Tru-Soft cellulose insulation is safe against fire, insects and mold
Cellulose does not contain dangerous substances commonly found in building materials, including formaldehyde, volatile organic compounds, and glass fibers. Treated with a borate solution, cellulose insulation carries a Class 1 (the highest) fire safety rating. Cellulose insulation restricts the airflow in walls and attics, which slows the spread of fire. Another benefit of cellulose is that the solution in which it is treated also makes it mold and insect resistant.
Tru-Soft cellulose insulation offers several options for varying applications
If you choose cellulose insulation for your building, you can rest assured, knowing that you have made a great decision when it comes to efficiently heating and cooling your home or office, and increasing energy savings. While all insulating products, including cellulose, are considered "green," there are still some options that are better for certain spaces than others.
For instance, if you are insulating your attic, loose-fill, also known as blown cellulose, is a common choice when it comes to this part of the building. To install the product, one insulation installer utilizes blowing equipment to feed shredded cellulose through a hose to a second installer who actually applies the insulation in the attic.
When it comes to insulating enclosed spaces like wall cavities, this usually requires a different insulating technique referred to as dense-pack insulation. Two-inch-diameter access holes are drilled into cavities, allowing the installers to insert a small application nozzle into the holes to inject the insulation. This technique requires a denser application and increased air pressure.
If you are insulating open stud bays, wet-spray cellulose is often the best choice. Before applying, water, or even a binder compound, is added to dry cellulose. Insulation installers then spray the insulation (thus the name). The insulation material should not be too saturated; otherwise the product will settle or even fall out of place.
Cellulose Inspection in Delaware Can Help You Save on Energy Bills
Call us at 1-833-397-0163 or visit us online to schedule a home energy audit and insulation estimate and start saving on your home energy bill! Lawson Home Services serves Bear, Wilmington, Dover, Salisbury, Newark, Easton, Middletown, Claymont, Berlin, Hockessin, and surrounding areas throughout Delaware and Maryland.